Our programs
Taekwondo Programs
Little Tigers (Age 4)
---
A fun introductory martial arts program designed for 4 year olds. Little Tigers is an excellent program to help your child to gain focus and confidence before they go to school or as they start school. It is composed of a structured Taekwondo program that allows kids to build stronger physique and mind through various activities and games. ✓ 12 week program ✓ Free uniform ✓ Award ceremony at the end of each season
---
Kids and Juniors Class (Ages 4 to 12)
---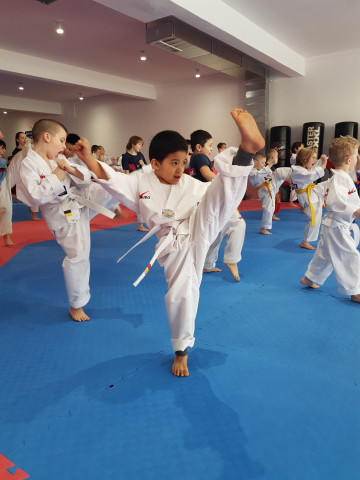 Our kids and junior program offer many benefits for your child. Not only will they improve in health and flexibility, they will learn who they are as a person, their capabilities and how to overcome difficult situations. Taekwondo is fun, and yet it's challenging – it will motivate your child to continuously push themselves to the next level. ✓ All year around program ✓ Join at any time ✓ Two lessons per week
---
Teens and Adults Class (Ages 13 and up)
---
The teens and adults program is offered to age groups of 13 and up. It will provide high intensity classes that will give you the health benefits or weight loss that you are looking for. Our Teens and Adults classes will get you in great physical condition and give you the energy to take on your daily activities. High intensity classes reduce stress and increase stamina and flexibility while learning how to defend yourself. The all-new, completely different challenge that you will get from training Taekwondo will reveal a part of you that you didn't know existed. ✓ All year around program ✓ Join at any time ✓ Two lessons per week
---
Family Class (Family members 2 and more)
---
Our family Taekwondo class is for families of two or more and it helps to build a special bond between parents and children or between siblings or as a whole family. By participating in the same Taekwondo program together, both parents and children make unforgettable memories which positively affect current and future relationship between the family members. There is no restriction in age or level of belt for this program and it is great opportunity for family members who have not yet tried Taekwondo to get involved. We aim to help families build patience and respect towards other family members while having fun in the class together.
---
Sparring Class (Yellow Belt and up)
---
Any student with yellow belt and up can join our sparring class. We provide Olympic style sparring with excellent coaching and encouragement. The sparring class helps students to experience the real life self-defense skills. Also, through the one on one match they build confidence and martial art skills. Without sparring, one cannot say that they have learned real martial arts.
---
Team Niagara TKD (Competitive Black Belts)
---
The Team Niagara TKD (a.k.a. Team Jung's) of our school is compromised by top students who commit to competitive Taekwondo. With the guidance of Head Coach and Leaders, Team Niagara TKD participates in tournaments and demonstrations. The goal of Team Niagara TKD is to represent Jung's Niagara Taekwondo through hard training and commitment to Taekwondo. We show high performance demonstrations and extreme martial arts at various festivals and events. If you would like to be the next Team Niagara TKD member, please talk to Masters.
---
---
Ladies Fitness Kickboxing
Ladies Fitness Kickboxing (13 and up)
---
Our women's kickboxing class will provide high intensity training with health benefits such as getting fit, self-confidence and much more. The fun class and enthusiastic instructors will motivate you to keep coming back. Having good eating habits and taking two exercise classes per week has proven to reduce stress and anxiety. Our fitness kickboxing class are for those who want to get in shape and learn some self-defense, while having a great work out. The program is held all year around and you can join at any time. Our regular membership includes two lessons per week.
---
---
After School / Camps / Birthday Party
Taekwondo Camps
---
We offer PD Day Taekwondo Camps and March Break & Summer TKD Camps to 6 years old and older. Join for the ultimate fun and healthy camp days!
---
Taekwondo After School
---
We provide Taekwondo After School Transportation program. Students will be able to earn their black belt, get help with their homework and more while attending our after school program. ✓ Transportation from student's school to our facility ✓ Supervised by Ontario Certified Teacher ✓ Taekwondo lessons by Kukkiwon certified instructors ✓ Get help with homework
---
Taekwondo Birthday Party
---
Wanna have Kickin' Birthday Party? We offer fun, educational and exciting martial arts birthday party for your special little one. ✓ Total of 120 minute fun! ✓ 50 minutes of Taekwondo lesson included ✓ No previous martial arts experience needed ✓ Pizza lunch included ✓ Breaking board by the birthday child to make the child feel extra special!
---
---